Classical music is never widely popular beyond affluent or educated urban elites. Beyond these intensive culture-centers, most people listen only to pop, folk, or religious music.
If any classical music is almost popular, it is Romantic classical music from the 1800s.
At Christmas, for instance, many suburbanites flock to performances of The Nutcracker Ballet (1892) by the Russian Romantic Composer Peter Tchaikovsky, whose other ballets include Swan Lake (1875-6) and The Sleeping Beauty (1890). Another popular Romantic ballet is Peer Gynt, based on Henrik Ibsen's play with incidental music (1876) by Norwegian composer Edvard Grieg.
Many people who know little about Classical music recognize the name of Beethoven and the opening four chords of Beethoven's Fifth Symphony, or the melody (or cannon-fire accompaniments) to Tchaikovsky's 1812 Overture.
Romantic classical music dominates the repertoire for classical symphony orchestras in the United States, Europe, Israel, and the Far East (esp. Japan, Taiwan, and Korea). If you attend a regular or "pops" concert by the Houston Symphony or one of the nation's other major orchestras, most musical numbers will be from the Romantic era—though major orchestras usually squeeze in a few 20th-century Modernist pieces to the extent their clientele will support.
In terms of periods, Romantic classical music follows the Enlightenment or "Classical" period of classical music featuring Haydn, Mozart, and C.P.E. Bach. People often want to regard Mozart as a Romantic composer, but this is largely on account of the romanticized film Amadeus (1984) and because the most popular works of Mozart today show him experimenting with Romantic lushness or simplicity of expression.
Leading Romantic Composers
More Major Romantic composers
| | |
| --- | --- |
| Franz Schubert (1797-1828) | Hector Berlioz (1803-69 |
| | |
| --- | --- |
| Felix Mendelssohn (1809-47 | Robert Schumann (1810-56) |
| | |
| --- | --- |
| Franz Liszt (1811-86) | Gustav Mahler (1816-1911) |
| | |
| --- | --- |
| Guisseppe Verdi (1813-1901 | Richard Wagner (1813-83) |
| | |
| --- | --- |
| Anton Bruckner (1824-96) | Johannes Brahms (1833-97 |
| | |
| --- | --- |
| Giacomo Puccini (1858-1924) | Richard Strauss (1864-1949) |

Women Romantic composers
As with the rise of urban women writers during the Romantic era, women performers and composers began to appear.
(Causes: higher living standards, improved women's education, early birth control and delayed child-bearing)

Fanny Mendelssohn
(1805-47)

sister to Felix Mendelssohn, descended from distinguished German Jewish family of intellectuals and musicians

composed numerous songs and piano works, some published under brother's name (concerns about "published" or "public" identities for women remained a concern in music as in literature).

Fanny Mendelssohn Hensel, 1842


portraiti by Moritz Daniel Oppenheim


Clara Wieck Schumann




(1819-96)



child prodigy, later wife of Romantic composer Robt Schumann

long & distinguished performing career

Before middle age, Clara Schumann composed a number of songs, piano pieces, a piano concerto, choral pieces, and "Romances" for violin and piano.

Since feminist movement of 1970s, Clara Schumann's compositions increasingly appear in major concert performances




Clara Wieck, age 15


Amy Beach


(USA, 1867-1944)



child prodigy, largely self-taught

After marriage, performed (piano) once a year for charity; husband encouraged devotion to composition

Following husband's death (1910), toured Europe as pianist

Her many compositions include an opera, sacred and secular choral works, concertos, sonatas, and songs.


Qualities or Characteristics of Romantic Music
From the Baroque through the Classical to the Romantic eras, the symphony orchestra continues to grow and add new instruments.

Improvements in machine-tooling create better instruments with fuller sounds.

The piano emerges as a solo instrument capable of performing loudly and dramatically in large spaces.

Romantic classical music emerges during a period of increasing urbanization or growth of cities, creating larger audiences who pay admissions, in contrast to earlier periods when music was performed in churches or courts.

Growth of paying audiences leads composers to create music with wide popular appeal rather than writing to suit the tastes of aristocratic or ecclesiastical patrons.
Changes in style:
Compared to the formal rigor and restraint of Classical classical music, Romantic music indulged more freedom of form and design and more personal expression by the musicians.

Romantic music appeals to and enhances listeners' emotions. Repetitive motifs evoke longing, triumph, tranquility, storminess, wonder.

Melodies become more lyrical and song-like; chords become more colorful or vibrant with feeling.

Larger orchestras and more powerful instruments enable loud-and-soft aural dynamics, bold dramatic contrasts between passages or movements that are alternately tender and boisterous.

Though Romantic music appeals to the emotions, with some exceptions its subject matter remains secular like most of the Classical era, in contrast to the religious contents or events associated with much Baroque music.

Musical selections from the Romantic period of classical music with discussion questions
Chopin, Nocturne (1830) (picture of actor Adrien Brody in The Pianist, award-winning 2002 film on a Polish-Jewish pianist during Nazi Holocaust)
Beethoven, first violin concerto
Schubert, Ave Maria (note the Romantic visual images of nature to accompany a spiritual song of devotion to Mary)
Beethoven, Moonlight Sonata, 1st Movement (note title association with Romantic nature)
Tchaikovsky, Dance of the Sugar Plum Fairy from The Nutcracker (played on glass armonica)
Liebestod (love-death) from Wagner's Tristan & Isolde (love-death aria begins at app. 8 minutes)
Beethoven, Symphony #5, first movement
Tchaikovsky, 1812 Overture (Osaka Philharmonic)
Discussion Questions:
How are not only the styles of music but the settings or appearances of the performers more Romantic than Classical or Baroque?
How to describe the emotional dynamics or ranges of Romanticism and Romantic music, especially the sublime?
Why is Romantic music more popular than Baroque or Classical music?
Can Romantic music be gothic?
Edvard Grieg (1843-1907), Norwegian composer and musician of the Romantic era.



Grieg wrote the incidental music to Henrik Ibsen's 1867 play

Peer Gynt

. In the 1880s Grieg developed two independent musical suites from this incidental music.

Of all Classical Romantic music, this piece is perhaps the most gothic.

Orchestral version of

Peer Gynt Suite: "In the Hall of the Mountain King".

Animated version (Poland):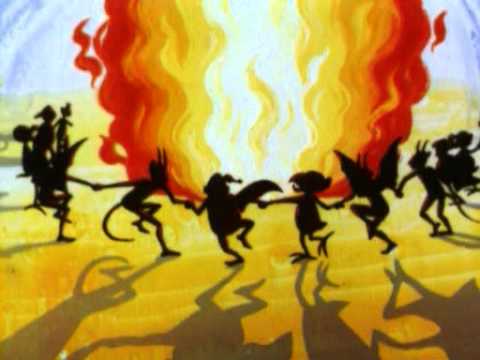 classic gothic color-code: light-dark with lurid (red-yellow) colors for drama
(colors as symbols)