Baroque music is characterized most by counterpoint—whenever you hear one phrase or melodic motif, be prepared to hear another that responds to or balances it.*
In a broader sense, the Baroque Era (ca. 1600s-early 1700s) is the period when "classical music" as we now know it began taking form, starting to move out of sacred spaces like churches or cathedrals and into more public spaces, as with Bach's secular cantatas (sometimes performed in coffee houses) or Handel's and Telemann's "Water Music" suites, performed for boating parties.
Baroque music also began to resemble modern classical music by using larger orchestras. (In the Renaissance instrumental ensembles were smaller, sometimes with larger vocal ensembles.)
The Baroque era is distinguished above all by the presence of Johann Sebastian Bach (1685-1750), "the Shakespeare of music"—the most productive, wide-ranging, influential, and accomplished artist of his medium.
The Baroque era is also still well-known as the period of Handel and Vivaldi, who provide much of Western culture's classical Christmas and elevator music, but the music of Telemann, Biber, Corelli, Scarlatti, Couperin, and Rameau continues to be performed widely.
Classical-music concerts like the Houston Symphony are dominated by Romantic-era music—Beethoven, Brahms, Tchaikovsky, Schubert, Wagner—but the late 20th century saw renewed interest in Baroque music, especially as played by "period instruments" so that performances sound like their original audiences may have heard them.
The major limitation on this movement is that Baroque ensembles were smaller than modern orchestras, so that audiences for period performances are likewise limited in size, but with increased intimacy.
*More on "counterpoint" as Baroque music's chief aesthetic: A pleasure of Baroque music is a listener's ability to anticipate what comes next without feeling like what comes next is entirely predictable. This quality results from Baroque music's almost mathematical structure—a quality that might also be characterized as symmetry or balance.
A related concept in Baroque music is "theme and variation," in which a musical theme, phrase, or melody is repeated but with changes that inspire further changes, all the while keeping the original theme as a center or base. Bach was famous as a master of musical improvisation, meaning he could start with a written or well-known musical phrase or melody, then turn it into new expressions, somewhat like jazz or jam-rock do later.
Discussion questions:
1. How has Baroque music evolved from Renaissance music? What resemblances and differences? What potential comparisons or contrasts to American Indian music?
2. In what ways is Baroque music still popular? Where and when does it still appear? Why is it popular at Christmas and in elevators? How or why does it make good "study music" or "work music?" (sometimes "shopping music").
3. How may Baroque music reflect or represent its time period during the 17th Century, i.e. during Europe's Protestant Reformation and Catholic Counter-Reformation, and the rising Scientific Revolution?
4. How do you identify "counterpoint" or symmetry in this music?
Examples of Baroque music, primarily in performance:
Handel, Hallelujah chorus from Messiah
Philadelphia Opera Company, Random Act of Culture performance of Messiah at Macy's
Peru Illinois Walmart Random Act of Culture performance of Messiah
Vivaldi, The Four Seasons: Spring
Bach, Toccata & Fugue in D minor (good picture of Baroque interior design)
Huge Foot Piano Duo performing Bach, Toccata & Fugue in D minor
Bach, French Suite #5 Sarabande
Instructor recommends Baroque music as excellent study music. It's busy and complex, so it supports one's spirits with beauty and drive, without being as distracting as later music. Romantic music, for instance, insists you pay attention. Pop music is full of attention-catching (or annoying) hooks to distract you. With the Baroque, you get to have your music and do your work.
Concentration and studying Baroque music
Baroque Adagios for studying and learning
Mercury (formerly Mercury Baroque Ensemble)

J.S. Bach, 1685-1750


portrait by Haussmann, 1748




Handel (1685-1759)

w/ King George I (1660-1727)




on Thames River 1717, by Hammans
free downloads of Bach's organ music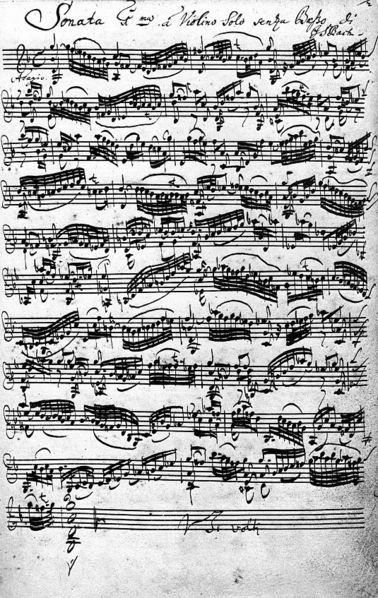 score for violin sonata
by J.S. Bach, autographed
Notes added 15 Feb. 2016
On Valentine's Eve Mrs. W & I attended the Mercury Orchestra's performance of Bach's four Orchestral Suites at the Wortham Center in Houston. Before the concert the orchestra sent an email with the following links to all four suites:
Suite No. 1 in C Major BWV 1066

Suite No. 2 in B Minor BWV 1067

Suite No. 3 in D Major BWV 1068

Suite No. 4 in D Major BWV 1069
The audience was mostly Anglo and Asian with considerable white hair and bald heads, but . . .
Mercury is a new orchestra that often includes rising young performers fresh from music school who spend a few years here before moving to more established orchestras. (They have lots of hair with color and shine.)
Most classical musicians are Anglo and Asian, but singers often include African Americans and Latinos.
Program notes from performance
[Bach in Leipzig, Germany, contributed compositions and direction to the "collegium musicum" (musical guild or society).]
The significance of the German collegia musica lies in the emergence of regular musical concerts outside of the traditional institutions of the church and aristocratic court. . . .
. . . the picturesque venue in which it performed: a local coffee-house, Zimmermann's, during the winter, and the coffee-garden outside it during the summer.
The orchestra suite in its genre and style exemplifies the music suited to that venue and its educated, middle-class audience; a composition that features a series of contrasting French-style courtly-dance movements . . . ..