LITR 5439 Literary & Historical Utopias

Instructor's Presentation

Ursula K. Le Guin,

The Dispossessed: An Ambiguous Utopia (1974)
1960s as period of hippie & Jesus-freak communes
1970s as period of great utopian fiction
(most of these texts are too long for summer school)
Ursula K. LeGuin, The Dispossessed: An Ambiguous Utopia (1974); Always Coming Home (1985)
Ernest Callenbach, Ecotopia (1975)
Marge Piercy, Woman on the Edge of Time (1976)
Samuel R. Delany, Trouble on Triton: An Ambiguous Heterotopia (1976)
William Boatman, reference librarian for Neumann Library (for about 1 more month)
B.A. Drama & M.A. English, University of Iowa; Master's in Library Science
Owned used book store in Minneapolis(?)--much science fiction to be processed!
Avid reader and supporter of Ursula K. Le Guin
Le Guin = science fiction writer most respected in university English departments, which reflexively dismiss most sf as realm of unschooled writing, gee-whiz O-wow intellects, undiscriminating fandom
Ursula K. Le Guin official website
Reasons for Le Guin's prestige:
writer of high integrity and ingenuity, quotable, depth
mythic scale corresponds to much 20c criticism
gender issues--many of her protagonists are male, but books like The Left Hand of Darkness explore alternative genders with great power
environmental / ecological concerns
children's author
E. F. Schumacher, Small is Beautiful: Economics as if People Mattered (1973)
important influence on "slow-growth" or "no-growth" policies of 1970s: Jerry Brown, Jimmy Carter, the Club of Rome, The Limits to Growth
repudiated by hyper-growth policies of 1980s, Reagan, Clinton, The Club for Growth
Houston projected to grow by 3 million people by 2025 (like adding two San Antonios or 1 Milwaukee to city).
World population app. 7 billion now, 10 billion by 2100
consumption levels unsustainable, old visions of living on other planets still more than a century off
Schumacher sites on Research links
Decentralization, de-industrialization; cf. Gandhi
'swadeshi', which, in effect, means local self-sufficiency
Plato's Republic as utopia of scarcity and utopia of plenty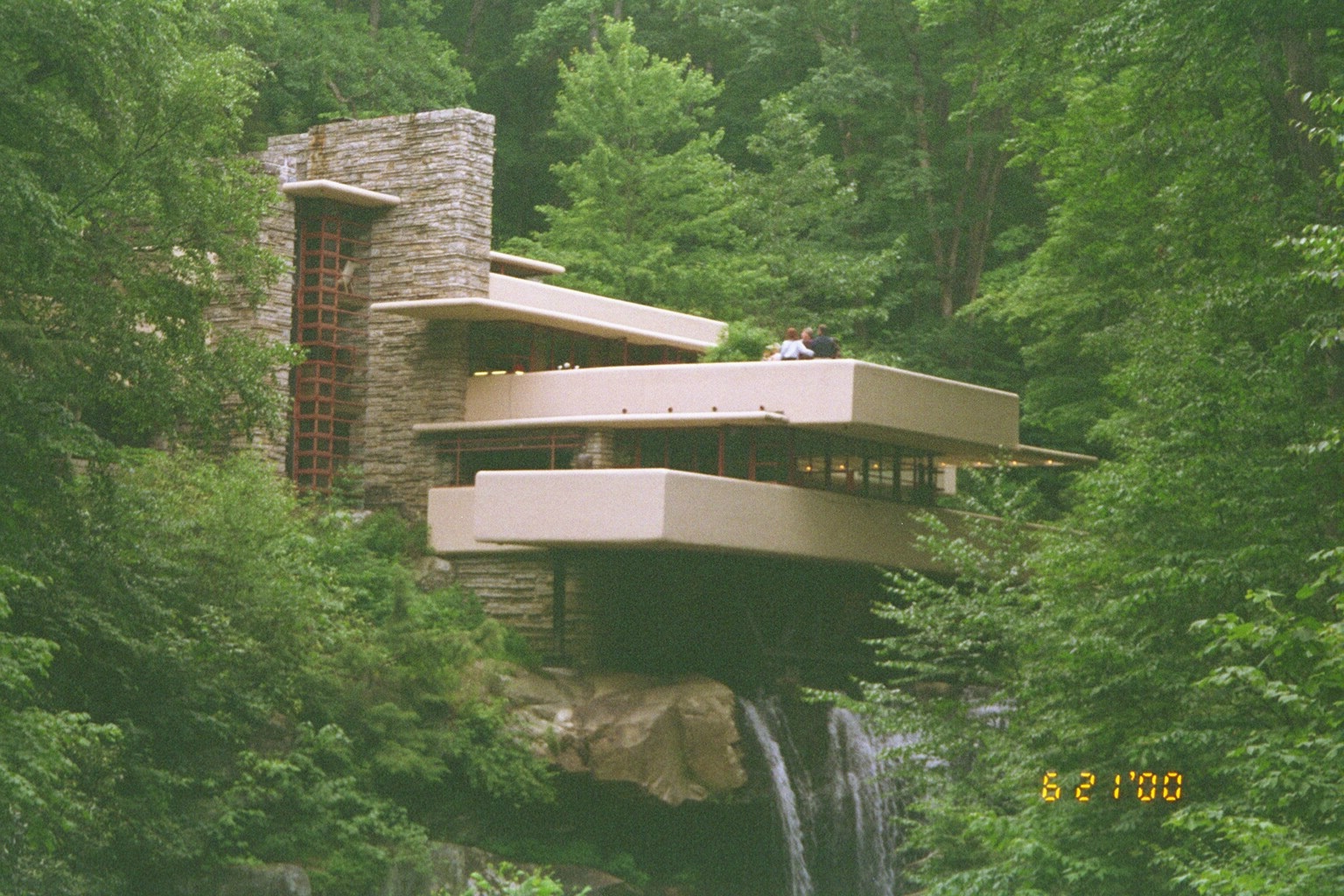 Frank Lloyd Wright, Falling Water