by Joseph R. Gregory, New York Times 11 April 2012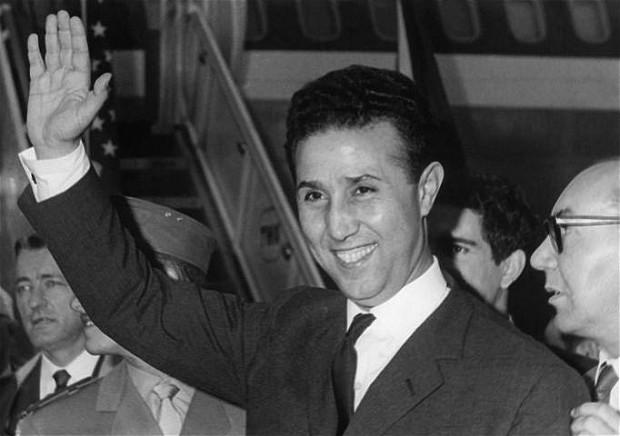 Ahmed Ben Bella, a farmer's son who fought for France in World War II, turned against it in the brutal struggle for Algerian independence and rose to become Algeria's first elected president, has died at his home in Algiers, the capital. He was 93.
The state news agency announced his death on Wednesday morning.
Tall, athletic, handsome and charismatic, Mr. Ben Bella was known for his quick mind, courage and political cunning, traits that became tools of survival in a turbulent life. He faced heavy combat in wartime France and Italy, escaped French assassination attempts as well as a prison, then survived the murderous intrigues of political rivals as he struggled to impose socialism on his sprawling, divided country in the anarchy that followed independence in 1962.
On June 19, 1965, after less than three years as prime minister and president, he was ousted in a coup led by an old ally. He spent the next 14 years in confinement and never again held power. But he remained a powerful voice for the third world amid the conflicts of the cold war and the unrest within the Arab world over Israel, Iraq and radical Islam.
"My life is a life of combat," he told an interviewer in his last years. "It is a combat that started for me at the age of 16. I'm 90 years old now, and my motivation hasn't changed; it's the same fervor that drives me."
Ahmed Ben Bella was born on Dec. 25, 1918, in Marnia, a small town in the mountains of western Algeria, to a family with Moroccan roots. His father, a Sufi Muslim, supported his five sons and two daughters by farming and small-time trade. The oldest brother died from wounds received in World War I; two other brothers died from illness, and another went to France and disappeared in the mayhem of the Nazi victory in 1940.
Mr. Ben Bella chafed at colonialism from an early age — he recalled a run-in with a racist secondary school teacher — and complained of France's cultural influence. "We think in Arabic, but we talk in French," he said.
His education was truncated when his father officially changed the year of Ahmed's birth to 1916 so that he could return to work on the farm. The move had unintended consequences: Ahmed was conscripted in 1937, two years ahead of his class.
He took to soldiering as readily as he had taken to soccer back home. He was promoted to sergeant and won celebrity as a soccer star in Marseille, France, where his regiment was based. In command of an antiaircraft section during the German invasion of 1940, he kept to his post, firing away as others fled, as waves of Stuka dive bombers pounded the city's port. He was awarded the Croix de Guerre.
After the city's surrender, he declined an offer to play professional soccer and returned to Algeria, where he joined a Moroccan regiment fighting with the Free French. Through 1944 he fought his way up the Italian boot, winning battlefield citations, including one for recovering three abandoned machine guns in the face of German tanks. Gen. Charles de Gaulle personally awarded him the Médal Militaire, the highest decoration of the Free French forces, kissing him, in the French military tradition, on both cheeks.
On May 8, 1945, as France celebrated the Nazis' capitulation, a protest march in the Algerian town of Sétif against the cruelties of colonialism, made worse by wartime shortages, exploded into five days of rape and killing. More than 100 Europeans were killed.
The retaliation was merciless. An official report put the Algerian death toll at under 1,500; anticolonialists put it in the tens of thousands.
The brutality shocked Mr. Ben Bella. He refused an officer's commission, returned to Marnia and entered local politics. The authorities, learning that he had joined an opposition movement, sent armed assailants to his farm to assassinate him. In a shootout, Mr. Ben Bella, wielding a semiautomatic pistol, wounded one.
The attackers fled, but Mr. Ben Bella was forced into hiding. He joined the resistance movement that was to become the Front de Libération Nationale.
In 1949, Mr. Ben Bella helped rob a post office in Oran, Algeria. Tracked down, he was sentenced to a long stint in the Blida prison. In 1952, with the aid of a file hidden in a loaf of bread, he broke out and went to Cairo, where he became one of the liberation movement's nine top leaders.
On Nov. 1, 1954, as the French celebrated All Saints' Day, the rebels struck, beginning a war of massacre and mutilation, summary executions and rape. Terrorists exploded bombs in busy nightclubs and shot down passers-by on crowded streets. French officers who had once fought the Nazis had Algerian prisoners tortured and shot.
Mr. Ben Bella spent most of the war outside Algeria, organizing clandestine arms shipments and coordinating political strategy. His life was in the shadows, but the French knew who he was.
In 1956, he refused to accept a package delivered to his Cairo hotel by a taxi driver. The bomb exploded as the taxi drove away, killing the driver. Later that year, in Tripoli, Libya, Mr. Ben Bella was waiting at his hotel when a French gunman entered his darkened room, fired and wounded him. The assailant, fleeing, was killed by guards at the Libyan border.
That October, Mr. Ben Bella and other rebel leaders boarded a Moroccan airline's DC-3 flight from Rabat, Morocco, to Tunis to take part in a Northern Africa summit conference. The French Army, acting without approval from Paris, radioed the pilot, who was French, with instructions to land in Algiers. There the passengers were seized by French troops.
Gen. Paul Aussaresses wrote in his memoir, "The Battle for the Casbah" (2002), that the Army had originally ordered fighter planes to shoot the plane down but called them off at the last minute when it was discovered that the DC-3's pilot and crew were French. Mr. Ben Bella's arrest "was a mistake," General Aussaresses recalled a senior officer as saying. "We intended to kill him."
The incident, widely publicized, brought Mr. Ben Bella new prominence. Held in France for the next five and a half years, he was treated by the government as a valuable asset in a potential peace deal and kept in moderate comfort. Free to read, he completed his education, absorbing the idealistic socialism of the French left. In 1961, as serious peace talks began, he was in an excellent position to negotiate independence with the war-weary French.
The independence agreement was signed in Évian-les-Bains, France, in 1962, and Mr. Ben Bella returned to Algeria, where power was up for grabs. He suppressed the Communists, outmaneuvered his rivals and used his new post as prime minister to push through a constitution. In September 1963, running unopposed and supported by Col. Houari Boumedienne, chief of the Army of National Liberation, he was elected president.
"I am the sole hope of Algeria," Mr. Ben Bella declared as he set out to forge a socialist state. Pledging that the new Algeria would "serve as a beacon" to the third world, he took to wearing a simple blue Mao jacket and issuing pronouncements like "Castro is my brother, Nasser is my teacher, Tito is my example."
Still, he was shrewd enough to maintain ties with the West. A deal with de Gaulle's government brought $200 million a year in aid, allowing France access to Algerian oil and the right to nuclear and missile tests in the Sahara. He accepted aid from both the United States and the Soviet Union.
But his efforts to push through agrarian and educational reforms foundered. A plan to have elected workers run the country's farms and factories proved impractical, as did an appeal to Algeria's women to donate their jewelry to the state.
"Ben Bella always wanted his teammates to pass the ball so that he could score," a former schoolmate recalled. "He was the same in politics."
As his profile grew overseas, his domestic base eroded. In May 1964, a bomb exploded in front of his official residence in Algiers. In June, violence flared between dissidents in the Kabilya region and the government. In July, Col. Mohamed Chabani led the Sahara regional army in a revolt that ended quickly with his capture and secret execution. Though Mr. Ben Bella had promised "a revolution without gallows," other potential rivals were jailed.
On June 19, 1965, Mr. Ben Bella was deposed in a coup led by Colonel Boumedienne, his former comrade in arms. Mr. Ben Bella was thrown in an underground prison, where he was held for eight months. Taken to an isolated villa in Birtouta, outside of Algiers, he was kept under house arrest for 14 years.
Though a prisoner, Mr. Ben Bella was allowed a private life. In 1971, his aging mother arranged for him to marry Zohra Sellami, a 26-year-old Algerian journalist. The couple adopted two children. Information about his survivors was not immediately available.
Colonel Boumedienne died in 1978, and in 1980 Mr. Ben Bella was allowed to go into exile in Lausanne, Switzerland. He returned to Algeria in the 1990s and took part in efforts to end civil strife there. He was present when protests erupted in 2010 in the first weeks of what became known as the Arab Spring.
Even in old age he remained a vocal observer of international affairs, opposing America's wars against Iraq and the rise of global capitalism. Although he was critical of radical Islamists, calling their movement misguided, he remained a fervent Muslim, telling an interviewer that the Koran had been his comfort during long years of captivity.
"I am," he said, "Muslim first, Arab second and then Algerian."