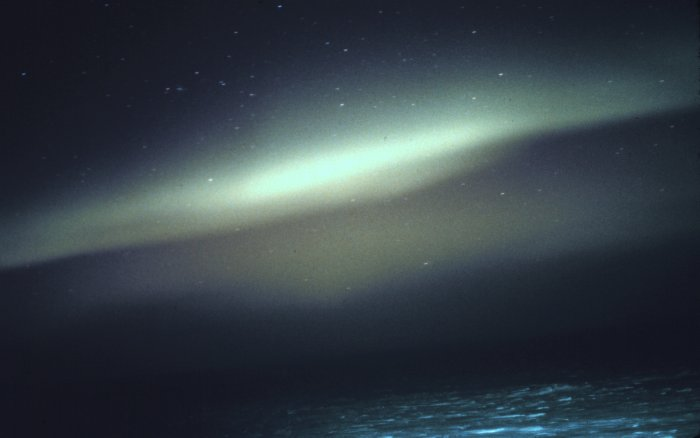 (aurora viewed from South Pole--photo by Commander John Bortniak, NOAA Corps)
LITR 5738: Literature of Space and Exploration
How do we write of new worlds? What kinds of stories do we tell before and after we enter them? How does the unknown reflect or change us?
This seminar explores classic nonfiction and science fiction concerning journeys across the earth's deserts, to the poles, the Moon, Mars, and beyond.

Spring 2004, Mondays 7-9:50pm
* * * * *
Texts for Spring 2004
(For details regarding assignments, click on syllabus-schedule tab)
Edgar Allan Poe, Narrative of Arthur Gordon Pym of Nantucket 1838 (Oxford)
(Poe's only novel takes his hero to the South Pole before anyone.)
* * *
Clint Willis, ed. Ice: Stories of Survival from Polar Exploration 1999 (Adrenaline)
* * *
Robyn Davidson, Tracks 1980 (Vintage)
(A young woman rides a camel across the outback of Australia.)
* * *
Edgar Rice Burroughs, A Princess of Mars 1912 (Del Rey)
(What if Mars were sexy and fun?)
* * *
Norman Mailer, Of a Fire on the Moon 1969 (Little, Brown)
(A contemporary journalist weighs the moon landing's impact on earth.)
* * *
Mary Doria Russell, The Sparrow 1997 (Fawcett)
(A signal of extraterrestrial intelligence & a near-future interstellar journey . . . )
* * *
Poetry of Exploration
by
Tennyson, Keats, Shelley, Cowper, Auden, Craig Raine, & Billy Collins
Student assignments: take-home midterm essay, research project (essay or journal), class leadership, email & web activities, final exercise.
Instructor: Craig White – 281 283 3380 – whitec@uhcl.edu